A rally that was supposed to be a peaceful demonstration for patriots to stand up for Trump on January 6th disappointingly turned into a chaotic event. Scores of people occupied the Capitol building and some stepped over the line into fear tactics, and even violence. When the dust finally settled, 4 died, the National Guard had to be called, a curfew enforced in DC, and several arrests. I think we can all agree this violent mob chaos was a disgrace and does not represent the real patriot or mainstream Trump supporter. Indeed, many prominent conservatives, including our President openly decried and denounced the violence and chaos, reminding every fellow American that no matter what the cause, violence and fear is never the answer to create change in a democracy. Despite the widespread condemnation of the rotten apples who only hurt Trump's cause and the conservative community, the liberal media is swarming over this as proof of "right wing" domestic terrorism and proof we are dangerous insurrectionists who need to be censored and banned. The left even went as far as to give Trump a permanent ban on Twitter, a heavily left leaning platform! In some ways not surprising, as they were looking for any excuse, and this seems to be the perfect one.
Now contrast the widespread (and justified) condemnation for the behavior shown at the Capitol Building with the BLM riots and "autonomous zones" from this past summer. Violent insurrection? Check. Calling the National Guard? Check. Curfews? Check. Destruction of property? Check. Making people fear for their safety? Check. Arrests? Check. We can go on and on… Yes, the cause may be different, the side may be different, even the scale and duration of events is different. But the chaos? The violence and fear? Nope! Those riots caused for more destruction and went on for longer and with more people in several cities across the country. Did their behavior honestly reflect the simple idea that black lives matter as much as any other life? Were their actions reflective of a movement who only wants equality and justice? No matter what your opinion is of BLM, violent riots, chaos and looting harms volumes more than it ever would help actual black lives.
Yet, there was no widespread condemnation from BLM leaders. They encouraged the riots in the name of "reparations"! The left did nothing to condemn and stop the chaos, and called anyone a racist for criticizing them. Despite it being also within a raging pandemic no one even blinked at the thought of thousands packed in the streets like sardines. As businesses shut down, they were broken into and looted while the business owners could only stand by and watch or face arrest. The famous "autonomous zone" CHAD, CHAZ, or CHOP or whatever else, stood for a whole month before being cleared out! Name a prominent left leaning politician or celebrity or any public figure who condemned the behavior shown over the past summer. Name anyone on the left who said the rioter's behavior dishonored, not honored, the lives lost to alleged police brutality.
Now going back to the recent events on the Capitol: President Trump decried the violence. Several conservative politicians decried the violence. Fellow conservatives on social media all decried the violence. Even though we all dislike, even hate, the policies of many who work in the Capitol, we never said they deserve violence and to fear for their lives. True conservatives know a democracy and the rights we all have as Americans applies to all, not merely those who we agree with. We are deeply embarrassed and disgusted our peaceful event was corrupted into what it was. Thing is, new evidence is coming to light, (despite being suppressed by the leftist mainstream) that many of the actual rioters and violent agitators were Antifa and other far left groups disguised as Trump supporters to sabotage our peaceful event. Yes, every group has its wing-nuts and we're no different, but the wing-nuts don't represent the other 99%. At every other Trump inspired event, thousands of fellow patriots gathered together without incident. This is out of character with the other events led by conservatives for Trump and should have raised suspicions from the start.
Before all this, I watched a video by Vox, a heavily left leaning news site geared towards college age millennials and teenagers that argued that the news coverage of the violence in many cities over the past summer mischaracterized a vast majority peaceful movement. They argued that news often focuses on the outliers, the more extreme ends to sell a more interesting story, violence is more eye catching, and also because it can be hard to capture all nuances of the complex subjects protests can cover whereas focusing in on an extreme helps simplify it for outsiders. It wrapped up by saying not to buy into the media's mischaracterization and oversimplification of their chosen movements by the actions of a few bad apples. Now, compare that attitude towards how the leftist media has covered this event! The left is blatantly turning a blind eye to violence from their own chosen causes, yet is quick to condemn the actions of a tiny minority within the 75 or so million who voted Trump in this past election. In contrast, as stated before, numerous conservatives including President Trump swiftly condemned the violet actions allegedly done in the name of conservatives and Trump. You can see the hypocrisy in black and white.
No one has the right to use violence and terror to get their way in this country or in any democratic society. This applies to any political party, religion, race, ethnic group, special interest groups etc… I and fellow conservatives have always upheld the rule of law for everyone, including ourselves. We aren't justifying the violence that happened at the Capitol when we call out the utter hypocrisy of how it's been covered compared to left leaning insurrectionists and their violence. I don't care about your opinion on whether the election was stolen, or if BLM is a worthy movement reflective of the inherent value of black lives when you cross that line. Violence is violence no matter who it comes from, so why is one group's violence covered up en masse, while another's is characterized as representative of 75 million people of whom 99% are peaceful law abiding citizens? Why are our leaders condemning the bad apples in our barrel while theirs cover up, deny and then attack you for calling out their silence about theirs? Saying we condemn violence done in our name, yet we also condemn the double standards being applied to how it's perceived compared to the left's own share of violence and chaos is not mutually exclusive!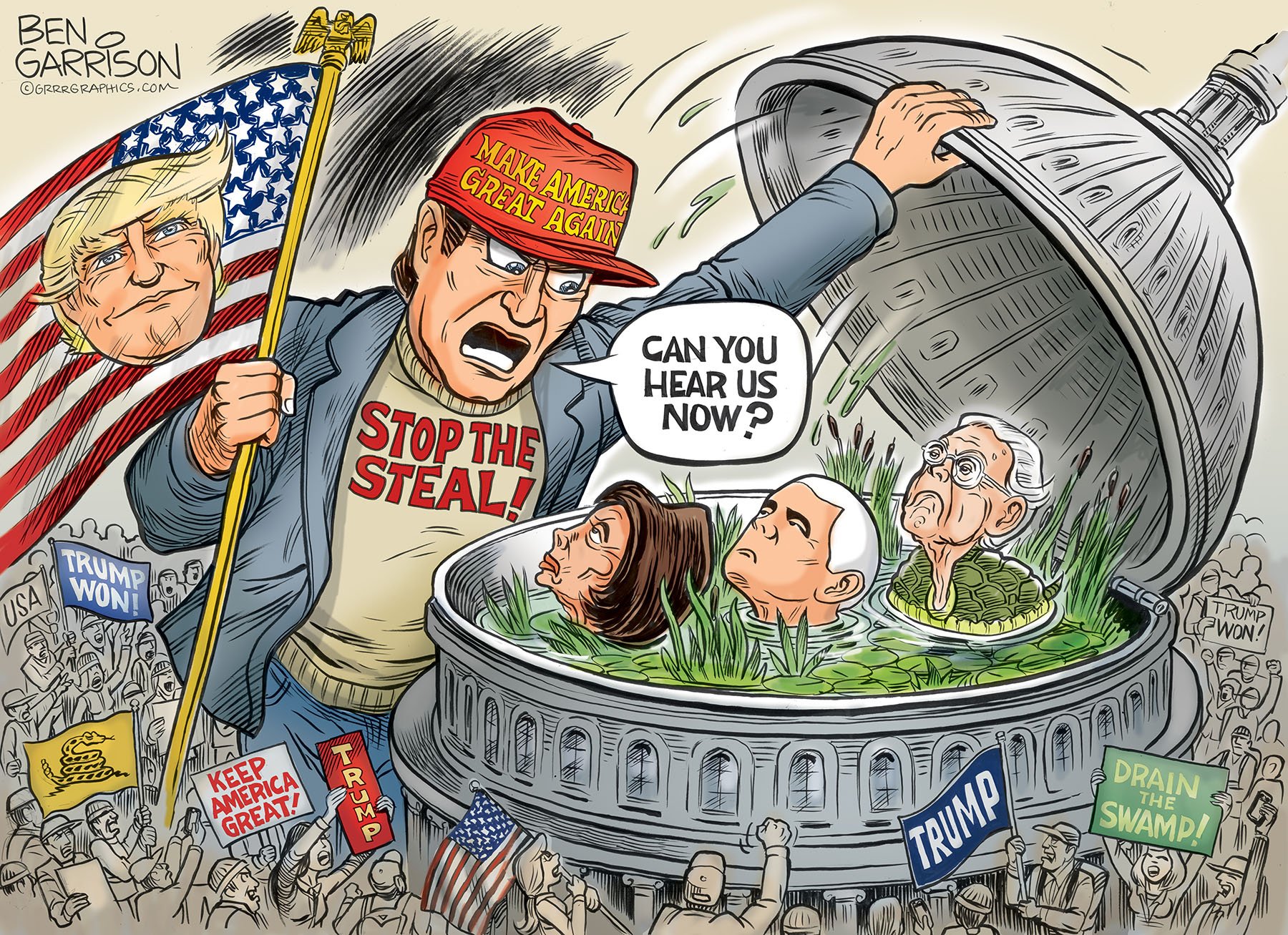 Patriots, we must show the country that those who took part in this disgrace were not us. This was never us. And most likely were literally not us!