This has been an observation I've had for a long time now observing my Leftist friends, classmates and coworkers: Apparently, we DON'T attend the same school, work at the same job, nor live in the same society even! Yes, we see each other on a regular basis in the same settings, but our perceptions of our reality couldn't be more black and white! As if somehow I have a completely alien experience compared to everyone else! Why? To be honest, I'm not quite sure…
Let's start with my most startling observation… My college experience. When I was in college, I thought I picked an amazing school. A beautiful campus. Nice housing. Great food. Warm and welcoming people who welcome you with open arms into the school community and reach out to make everyone feel welcome. An administration that cares about its students, good security, faculty who are excellent in their fields and deliver a high caliber education. What more can you ask for? However, all I heard from many of my peers was "This school has nothing to offer academically", "The campus police are incompetent and ignore real issues", "The administration keeps secrets and isn't transparent enough in addressing student concerns", and even more shockingly:
There are too many white students and they're rude and racist toward students of color…
Women are afraid to even go out of their dorms in broad daylight going to class because of men harassing and cat calling them and that there are "several known rapists on campus!"
Now I know for a fact both statements were false when I went to school. All I've ever known was a warm, welcoming, inclusive community who opened their arms to all students.  I never once say any white students being openly rude to a student of color, refusing to be near them, to be friends, much less being blatantly racist! Not once have I ever seen outright bullying, or even as much as a "microaggression". As for the allegations of harassment, I also have never experienced anything even remotely close to the sort as a woman myself. Not even walking back from a late night dance at 12:00 am! Much less in broad daylight going to a class on a random Tuesday for example, walking to a class nor were there ever hoards of  predatory men just waiting to harass women. Yet some of my fellow female classmates said they were harassed daily simply going to lunch by men whereas I was never even spoken to by a guy unless it was to say "hi" or "excuse me" to get past me. Now, I'm not saying there were never instances of racism or sexism on campus that I simply wasn't privy to, of course there are always isolated incidents. But as a pattern and a campus culture as a whole? Nope! I lived on campus as much as they did yet never once witnessed a blatant act of racism or harassment, or even a remotely rude one… My experience at college was amazing at a great school with great support for those who are serious about studying and not just goofing off. They wouldn't tolerate such antics and issues such as blatant harassment.
So where on Earth was all of this coming from? I really don't know for sure, but my best guess is that they are simply looking for something to virtue signal over and be a group. The people in question making such allegations were all far Left, and in that light, perhaps it's not too surprising they seemed to have an alternate reality! See, if they can whine collectively about something in their reality, they feel much more satisfied. In their reality, they lived in a racist cesspit of "white privilege" for four years of college. In their reality, they were harassed by men on a day to day basis and knew several rapists prowling around campus. But keep in mind, in the Left's reality, EVERYTHING is either racist, sexist, homophobic, transphobic, xenophobic etc…etc…
Of course, this is not confined to whiny entitled college kids who learn far Left. Leftists in general seem to have a separate reality in society at large! A country of opportunity, freedom and some of the best standards of living in their perception is one of inescapable poverty, racism, sexism, intolerance, xenophobia, one devoid of opportunities except for the top 1% to name a few! The party who deems itself the most accepting and tolerant, to everyone else, cannot tolerate anyone who thinks differently without labeling them as a bad person. The party of anti-racism only sees racist perspectives in regards to white people scapegoating them for everyone else's issues. A party that thinks women are 3rd class in America where women in 3rd world countries are treated like dirt and even killed outright. The party who thinks the West is the worst culture on Earth despite higher standards of living and technology as well as progressive social values such as democracy and equality.
A party that lets in illegals in record numbers saying they aren't a threat despite thousands on welfare, in jails and hiking up the violent crime rates. A party that sees legal gun owners as the enemy while criminals with no regard for gun laws are free to shoot as they please unhindered by law abiding citizens. A party that sees Trump as a fascist, racist tyrant akin to Adolph Hitler when we now have a better economy, trade deals, healthcare and a president who puts America first. A party that purports to stand for social "justice" creates ideologies that uphold double standards, inequalities and injustice. To the Left, they ARE the answer for society, but to everyone else, are creating more inequality, divisiveness and seem to be living on a different planet! Then again, it's their reality!
No matter what you can never please them either! You do one thing to be more inclusive, it's not inclusive enough to the next group! Or it's too inclusive and one group wants another excluded from their little clique. Take for example the "Vagina Monologues" written to "empower" radical feminist women. Once lauded, now are deemed not inclusive enough because and I quote, "not all women have vaginas!" One progressive idea this week becomes un PC the next week. The Left's problems in addition to being formed from an entirely different perception of the world, also cannot be solved in a reasonable way now either as what is "woke" today is forbidden tomorrow!
Well guess what Lefties? I've said it before, and I'll say it again! Your reality is not THE reality! In the absence of actual observations, evidence, statistics, etc… then most likely, your assertions that in an attentive warm and friendly school there are swarms of racists and predators, illegals are harmless when countless people have been murdered by them, legally owned guns the the issue when criminals use theirs without the law, women are treated like dirt in America when women in the 3rd world are killed, maimed and abused by men who see them as nothing, America is a land of tyranny when other countries like Venezuela are on the brink of a coup by starving citizens, and our current president is Adolph Hitler when he has made far more progress than 8 years of the previous guy, society is racist when they elected a president of color for 2 terms in a row etc…etc… Maybe, just maybe, you might want to reassess "your reality"…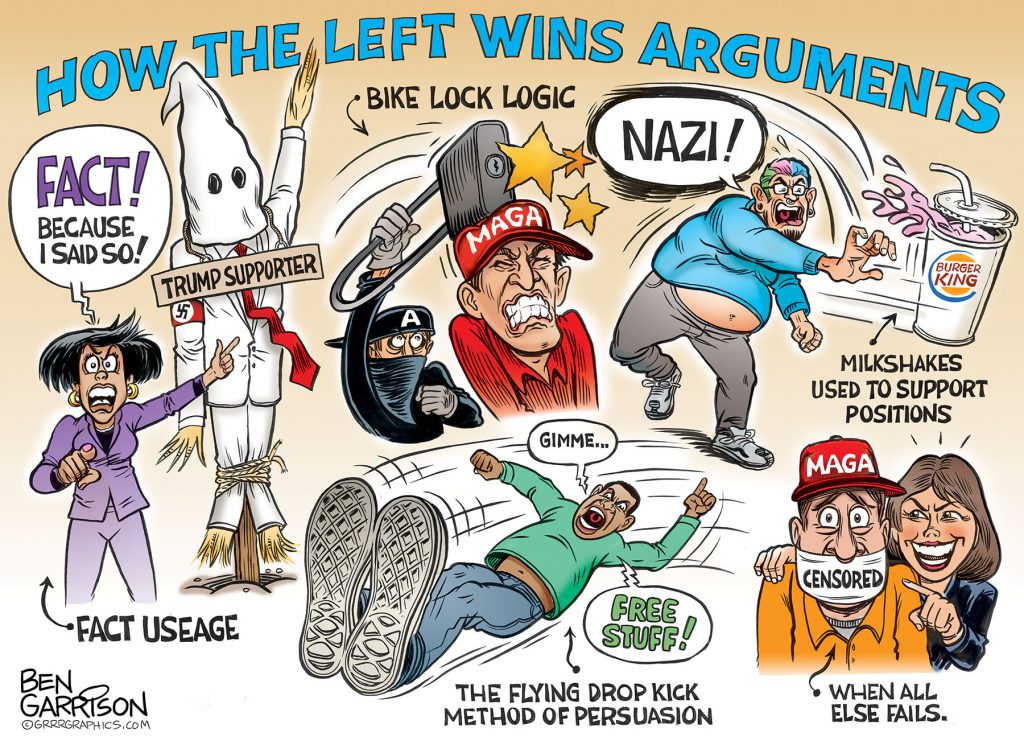 (Oh, and  P.S. , please stop moving the goal posts whenever you've been out-debated by more reasoned logic than your own. But that's for a whole other post 😉 )