Time Foolery is a wonderful "Lady of Reason" I met through Twitter! She has insightful ideas and a talent for writing! Here's her insightful take on the current bomb scares:
On Wednesday, October 25th, a series of non-lethal "bombs" were "delivered" to leading Democrats and, before anyone can begin looking for a culprit, CNN et al. immediately jumped on President Donald J. Trump and blamed his "rhetoric" for the event, which many see as merely a false flag operation meant to enrage Democrats and get them voting. Republicans are currently out-voting Democrats in early polling, and many Dems literally walked away in the past month with vows to vote red this November thanks to Democratic bad behavior over the Kavanaugh hearings.
Violence of any kind is deplorable, but incivility in this world is nothing new. Democrats who are holding on tooth-and-nail seem to have a serious problem equating the behavior of their leaders to what happened, if it was indeed a true terroristic threat. In the past two years, Republicans have faced harassment in restaurants and at their jobs. Cars with Trump- related bumper stickers have been vandalized. Majority Whip Steve Scalise was shot. Candidates were attacked just last week. Antifa creates riots every chance they get. And WHO has encouraged such behavior? NOT Republicans.
Maxine Waters, Eric Holder, and Hillary Clinton all recently have called for incivility towards Republicans, with Holder telling his mindless followers that when Republicans go low, "we kick them!" With this truly violent rhetoric coming from the Left aimed at their less-than-intelligent base, it's no wonder places like Berkeley became a scene of rioting, at the direct behest of Maxine Waters no less!! And they wonder why someone from the Right might do something like this??
The fact is, Republicans have been tolerating the Left and their calls for Communist-style incivility for the past two years simply because we won and saw this behavior as being to our benefit ultimately. The ongoing temper tantrums and craziness caused the #WalkAway Movement to be born, then gave it over 20,000 new followers in the short time since the Kavanaugh hearings. People who are critical thinkers saw the theatrics for what they were – a George Soros-funded "Free Fer All" designed to damage the entire legal process by trying to discount it completely. If they can't get what Soros wants honorably, he gives them money, printed signs and his blessing to wreak havoc. This time, it didn't work and he didn't want to pay his minions afterward. Apparently he only pays on results, and the protesters began protesting that their checks never arrived. That certainly told the tale for anyone who was left wondering what the hell they'd just witnessed in the hearings. It was no longer a suspicion, it was a confirmation that a Hungarian outsider is, and has been, seeking to subvert the Constitution, and the United States itself.
And yet there was still no outrageous reaction from the Right. It was all "par for the course" in recent years and again, letting them misbehave did more for Republicans than it ever did for the Democrats. And early voting proves that.
So, next ploy: a caravan of Honduran and other illegals is paid to head north to invade the United States. Who exactly is footing the bill is ambiguous, but Soros' Open Society has its name written all over it. It's an idea – challenge immigration law and ICE by sending people supposedly looking for a better life to engender support for the abolishment of our immigration laws. But then the stories started coming to the fore that it's mostly men on the move; that there are criminals and MS-13 amongst them; and that the few women and children on the march are being sexually attacked by men in the caravan. Nothing that wouldn't scare the pants off any free thinker who realizes this isn't a group who's truly looking for a better life, but know they'll get it anyway in return for their votes if the Democrats have anything to say about it. This was meant to drum up sympathy for illegals, but instead it has frightened Republicans and Democrats alike who realize this is a disaster walking our way. Another failed attempt by Liberals to excite their base.
So, what else to do to get sympathy and "righteous" indignation going? Trying to take out a good man and his family didn't work. Harassing and attacking Republicans and their leaders didn't work. And now the caravan has backfired tremendously. You can almost hear Hillary Clinton's cogs turning, "I know! Let's have a fake bomb scare!"
This wouldn't be the first time in history that a political party has created a false flag operation to shore up flagging political power. Hitler himself had the Reichstag burned and blamed it on a Communist patsy to build up angst against his political enemies with those who weren't already on the Nazi bandwagon. And it's a play straight out of Saul Alinsky's own directive on how to take down your opponents. In short, it reeks of Democratic desperation and very few are buying CNN's line that Trump caused this. This isn't to say that some less-than-normal nut job didn't do this, and it's certain someone has already been lined up to take the fall if not, but how long did Democrats expect Republicans to keep taking their bad behavior before clap-back commenced? How many Antifa roadblocks need to go up before normal citizens get fed up and someone less able to control themselves returns the favor? Two years almost exactly.
Whether real or false flag, this divisiveness and the violent rhetoric of the Democratic Party has the full blame for this current climate and are already receiving their punishment in having caused their Blue Wave to fizzle out. It will be interesting to see what happens after the election and the Democrats have lost yet again.
---
Thanks so much Time Foolery for your insightful take on the issue! 🙂 I will stress the caveat though, that until we know more we should not be too confident this was not one of our own gone rogue. However, the case she presents is a strong one for sure! If the perpetrator was a conservative all I have to say is this:
We must condemn violence on any side of the aisle including our own! No matter how loony the Left gets we must never stoop to their level and incite violence ourselves! I strongly oppose the targets threatened but I will never condone intimidating them with any violence of any kind. Ideas must be fought with ideas, not threats of violence! I am glad all are safe and unharmed! Threaten the ideas; NEVER the people holding them…
Time Foolery is an early member of the #WalkAway Movement, a life-long journalist, novelist and editor of various publications and internationally acclaimed books, and is an expert on Billy the Kid. She is a native of Texas now living in Canada. She wrote and edited for Stryker-Indigo Publishing, mostly sports books, one which disproved Canada inventing hockey.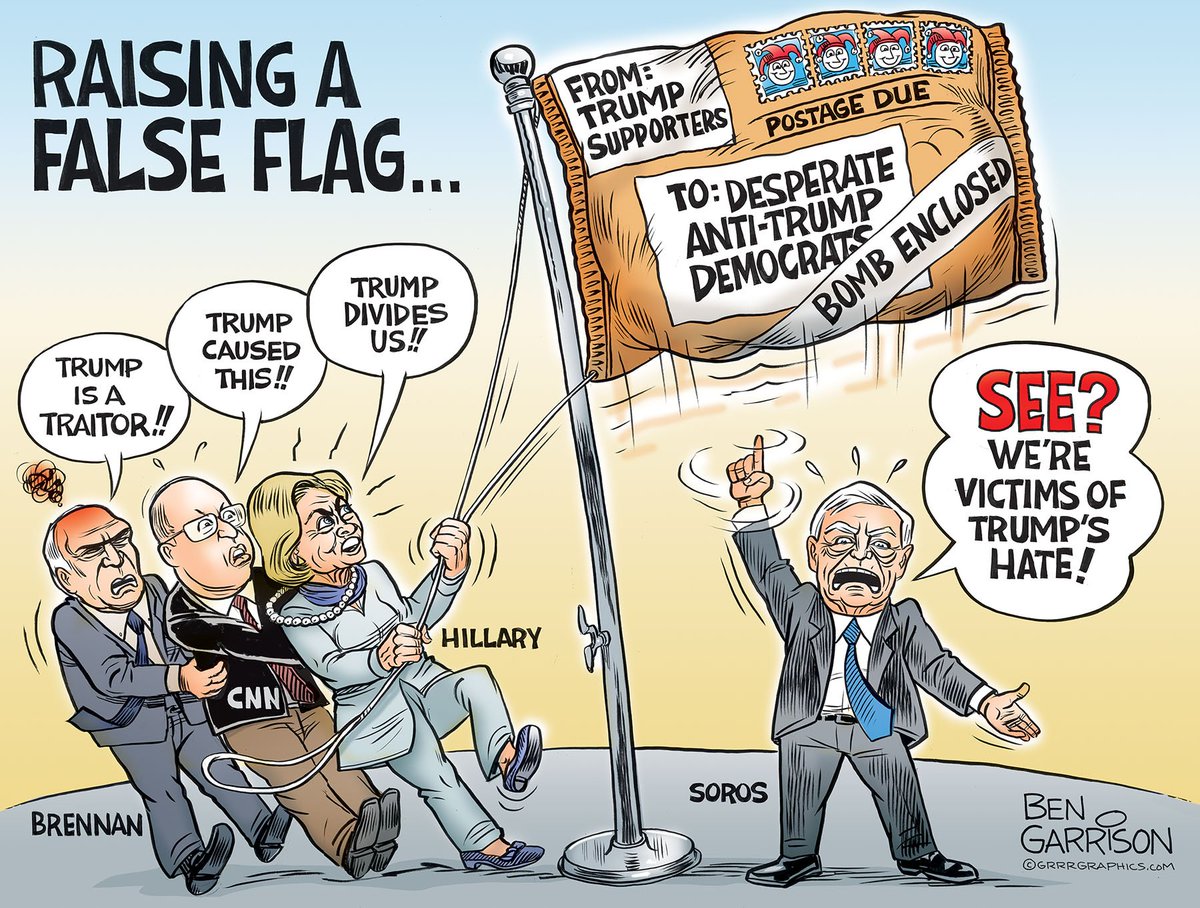 (Adults use their words to get what they want, not bully tactics! We must rise above this lunacy!!!)