Halloween is here and everyone's in a spooky mood! Like most people, I can appreciate a good scare around Halloween. However, fact can be stranger than fiction any time of the year, and the scariness of the real world is no trick! Here are some of the scary issues going on today spurred on by radical liberals and the culture of political correctness (click on the links to read more in detail about each issue):
As said many times before, in our current culture, sex is just a handshake. Marriage is just dating 2.0. Young ladies are told they can dress like skanks for men. Traditional values of committed life long marriages, and striving for marriage as your ultimate relationship goal, not just a hook up, being a virgin on your wedding day, the things our grandparents did, is going away in our society in favor of cheap sex or instant gratification and pleasure. It's society's reflection of the "I can do whatever I want consequence free" attitude of irresponsibility and instant gratification. Sites like Tinder and others don't help the matter! Nor does the mainstream media, TV and movies! Our youth is being taught this sleazy lifestyle, and many boomers are embracing it too, on to their 2nd and 3rd marriages in a culture rife with divorce, STD's and unwanted pregnancy! When did we decide instant gratification took precedence over the desire for a better future down the road? When did it become acceptable for our daughters to fling themselves at every guy they see to be "empowered" women? When did marriage become dating 2.0? Scary if you ask me…
2. "Any Family is A Real Family"
To add to this list of horrors, and on a related note is the disintegration of the nuclear family. In a culture that goes for cheap sex and hook ups, more and more people who start families break them up for baser urges. "I'm leaving you for my secretary!", "I'm divorcing you because I hate you and the kids!" "She's hotter and gives me what I like…" etc… Then, many single mothers go on and whine then, and raise sons to be weak and feminized, and daughters to hate men and reject traditional femininity and marriage. Children are the ones who pay the price on this one. Children for broken homes are much more likely to have issues such as depression, substance abuse, eating disorders, trouble in school, "daddy issues", a promiscuous lifestyle and repeat the cycle as adults! The glorification of single parenthood and the oppression of fathers in their children's lives is rampant, and reflected in every psychology journal, magazines, TV, movies and the media! Even events like the father-daughter dance are being eradicated thanks to bitter single mothers! That's not all though, the concept of same sex parents, who are in essence one parent since they don't have the perspective of the other sex are being normalized too. The politically correct platitudes of "every family is a real family" go down the drain of reality when one sees the children who come out of it.
Oh, this is a biggie! All the minorities and immigrants on welfare crying "victim" of past oppression and won't better themselves or their communities but settle for government housing! They drain our school system who has to raise their children for them, drain our healthcare with all their problems and unwanted pregnancies, drain our economy, our government, our charities, our food supply, our housing, and certainly our tax dollars! Indeed, it's you and I, the working class and the middle class, who foot the bill through our tax money. A portion of your salary goes to these leeches! And who would blame them? We enable them and they've been doing it for generations! Welfare should be for those who genuinely can't work, like our wounded veterans, and respectable families who need that leg up to get back in the workforce. However, now, people are leeching off it and are they grateful? No! The people who bombed the Boston Marathon sure weren't! Nor are the ghetto hoodlums in low income areas around the country, only bringing crime and continuing the cycle of poverty and anti-intellectualism (lest you be called an Uncle Tom). To make matters even more frightening, many literally believe WE owe THEM welfare from cradle to grave, and they reason why they have so many problems in their communities is due to white oppression! Even if that were true, why keep your neighborhood in crime and disarray? Why want nothing better for your children except to repeat the cycle and torment any good kids who want a future? Why bring nothing to this country in return for its charity? Appalling if you ask me, and guess who subsidizes all of this? (Hint: Liberal Democrats who want more votes…)
The issue of sex vs. gender is big now, and propagandized by mainstream psychology and science! In the "before time", gender (which now the liberals say is distinct from biological sex) was determined the same way as sex. XX or XY human chromosomes. In recent years, due to influences like radical feminism that hates traditional gender roles, they decided it's all arbitrary, and you can be anything you want regardless of genetics or settled science! People with what used to be called gender dysmorphia, are now normalized and victims of gendered oppression! Instead of a deep mental illness, it's now perfectly normal for little boys to want to be little girls for instance! For grown men to "transition" into women and dismantle their families! Now, I don't demonize the transgender people themselves, many do genuinely feel that way and have a real mental disorder. However, it's not all harmless, such as the fact predators now are enabled to merely claim to be women to enter girl's and women's restrooms and locker rooms! More and more young people are being brainwashed by the idea gender is merely a social construct, not a normal biological one in normal people, and decide on impulse they're the opposite gender, or even "other" that is neither gender! Until society stops normalizing a mental disorder as being progressive from the chains of gender roles, real women will be endangered by men pretending to be women to access their spaces, little boys and girls will be confused and brainwashed, families will be torn apart, and established objective science will be thrown away for popular sentiments and subjective propaganda!
This encapsulates so many groups, minorities, women, LGBT etc… The common denominator though is the world is out to get them, and owes them compensation and reparations! They seek not to better themselves, or appreciate the work that was done to help them, but rather to constantly whine, complain and demand more and more! If you don't comply, they go full blown tantrum, with vitriol, ad-hominem attacks, and straw man arguments! They don't want you to speak frankly or give any honest critiques of them. They pretend to be helpless against their misfortunes, such as crime, gangs, and poverty, or "sexism" and the "patriarchy", or traditional marriage, gender roles, biological sex, the nuclear family and such that they deem oppressive. They're "triggered" by an opposing view, "microagressed" on by innocent people who have no clue what they said was even remotely offensive. They're the snowflake generation that feels doomed for life and doesn't lift a finger to build their own future because of propaganda by liberals about our doomed economy, workforce and prospects for young people. The women who cry #metoo for a sexual mistake after the fact decades from when it happened. The minorities that claim "white privilege". The transgender people who demand science be overturned for their gender dysphoric disorder and the world cater to 1% of 1% of the population. The bitter single moms who hate men and the traditional family set up as the norm. Basically, a generation of snowflakes with no resilience and immense fragility!
Immigration is a huge hot button topic. So are refugees. While many of us came from immigrants, it's fair to say these ones are a bit different from the hard working industrious ones who helped build our country! The ones coming now, are draining our welfare system, medical care, schools, jobs etc… They're bringing 3rd world cultures over to our country and making more crime and poverty. Many of these war torn refugees also bring the threat of terrorism in addition. Now, of course, there are exceptions to the rule. Some groups do bring more industry, and technology here, working in high powered careers. Not all Hispanic or Muslim immigrants are the lazy, backwards, stereotype and do work hard and try to better themselves and their families. Many do come here through legal channels, and don't hop our borders only to leech off our system undocumented. I do genuinely feel for many in poverty and desperate straits who were forced to leave their culture and country. However, we can't care for every person who is in need around the world. What about our own citizens? The homeless children and veterans. The poverty in our own country. Why is it always on America to take in these people and baby sit the world? Why can't other countries pull their fair share too? People from war torn areas who have nothing are raised to be in a dog-eat-dog world. They bring that attitude of brutality over to 1st world nations like ours. Europe is in shambles over refugees bringing violent crimes like assault and rape as well as terrorism! MS-13 gangs and others plague our country from Hispanic countries. Why can't our immigrants bring more assets to our country, not leeches? Until we can screen them more thoroughly, the bad apples get though too!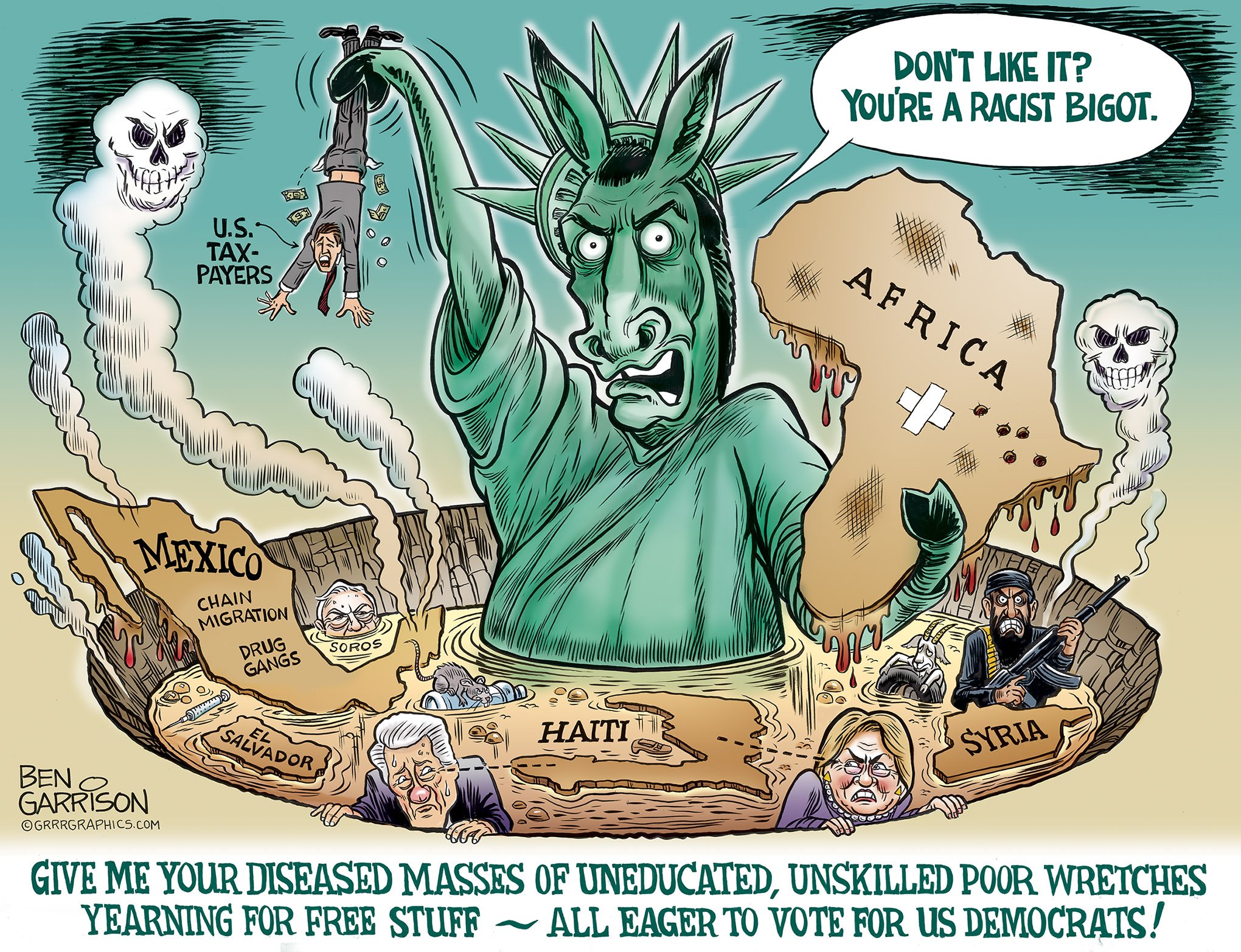 On another related note, comes the cultural clashes between 3rd world vs. 1st world values. Ones like freedom, equality and democracy! Ones where women aren't assaulted, and people robbed at gunpoint, or killed! Ones where hard work is the norm, not victimhood and leeching off the welfare state only to bite the hand that feeds you! The extremes the PC liberals go to cater to them are astounding, with special Sharia law set up, or ethnic neighborhoods where any outsider will meet their doom, or turning a blind eye to 3rd world criminals and gangs so you can be politically correct and not face uncomfortable truths. The traditional American work ethic of the working middle class who supports themselves and brings more to the country than takes is going away for fragile snowflakes who cry oppression. Not just immigrants and refugees of course are guilty of this. Minority groups here in the US like the much of the poor black community for instance! A culture of ghetto life, welfare, crime, and poverty that hates education and intelligence is not good for the country! It's all a slight to every one in these groups who is NOT like that and does work hard at an honest living and values our country.
The "Nasty Woman" movement really showed the extremes of the radical feminists. They brainwash our daughters to hate men and cry victim too. They infantilize women through the #metoo movement, painting women as helpless and clueless little children when it comes to sexual coercion. They try to say that traditional femininity is oppressive, traditional strong men are misogynists, and women ought to take part in hook up culture to be "liberated". They do anything but make women look dignified! They replaced feminine elegance and grace of past generations with vulgar promiscuity, loose morals and masculine wannabes who resent men. From this movement stems callous attitudes like "her body her choice", to misguided ones like shunning traditional femininity, the guidance of fathers, feminization of men, and more scary happenings!
White privilege and affirmative action are prime examples! It's unbelievable what the victimhood culture has duped many to believe is right! They claim that only whites are racist, or men are sexist, due to social power, but discrimination is discrimination no matter whose side it's on! Many white men and women too, are refused job offers, college acceptances and other opportunities like housing or even being chosen for promotions for instance due to their sex or color of their skin. Now, for some groups it's racist or sexist, but others it's not??? Pretty scary to think that inequality is being done in the name of equality!
10. Censorship of Conservative Views
Lastly, but certainly not least, the most scary thing of all is you can't publicly say ANY of the above!!! I am forced to use a pseudonym as any of this would derail me socially and career wise! Almost all mainstream news sites are liberal and demonize conservatives (minus Fox News for now…). Major search engines like Google are blatantly liberal, and censor conservative sites, and social media like Facebook and Twitter also censor conservatives, even YouTube! Which are all owned by Google 😉 Even offline, people will shun you, and spew vitriol over conservative views. You can't speak out even in your own family many times, and indeed, at least one family member shunned me over my blog! People have lost jobs, friendships, even family over being conservative. Some were even assaulted and lost their lives over conservative views! I guess we're "in the closet" now! It's a scary world out there for our lot, but there's a silent majority rising, and pushing back. We need to support each other and speak out, to make our world a bit less scary 🙂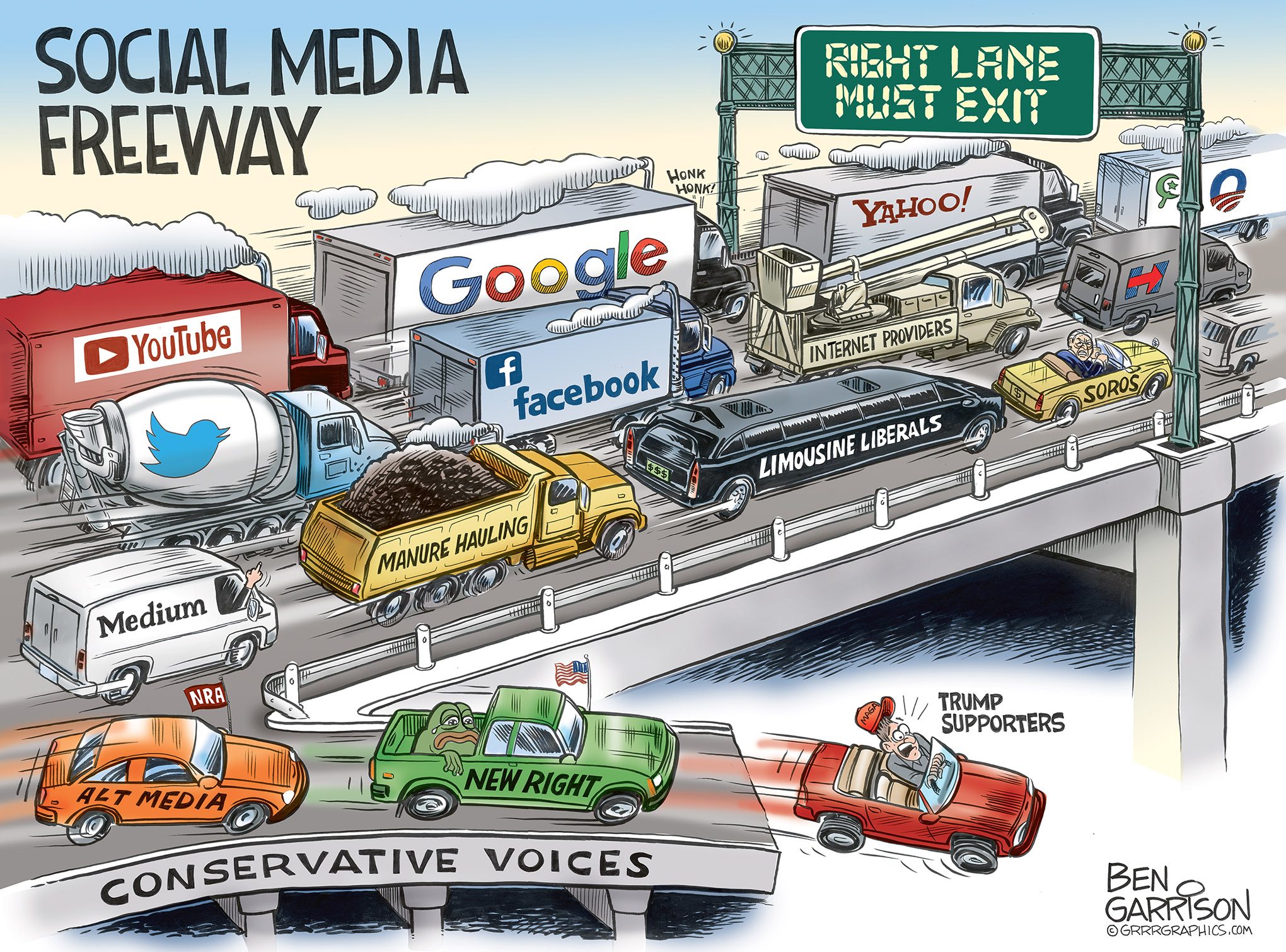 Lastly… Happy Halloween!