Reflections on current events is a new segment of A Lady of Reason. A history teacher in my sophomore year of high school would make the class write reflections on current events in the news, with the view it made us more well rounded, engaged citizens to think about what we see and hear about, and reflect on it, not just absorb it like mindless sponges! While he was much more liberal than I, I found common ground in that sentiment, as how can one make change without knowing what's being changed? Inspired by the spirit of that assignment, I take some time to reflect on a major event going on involving the conservative community, or some liberal lunacy that has gained prominence! Part of the job of speaking out and advocating is being informed of what's going on in the world around us. "Forewarned is forearmed!" 
The recent flurry of news over censorship of conservative voices online and on social media platforms has captured more national attention in recent days since it has come out PragerU has been censored by Facebook. However, this issue is not new and has been going on for years! The rampant culture of radical liberalism has pervaded our country, from blatant lies in politics, to propaganda and brainwashing in our schools and higher education, to most major organizations,  news outlets, TV, movies, and yes, the internet! Conservatives must fight twice or more as hard to be heard, and when they do, face intense backlash, ad-hominem attacks, and vitriol. We are reduced to backwards stereotypes such as racists, misogynists, homophobes, transphobes, etc…etc… who are privileged white males! Not to mention anti-intellectual cavemen who want to set our country back to the stone age in terms of social progress and equality!
The liberals make all sorts of excuses, for example saying that conservative viewpoints are "hate speech". But, has anyone actually thought about what actually is hate speech? I'll give you liberals a hint; it's NOT simply an unflattering truth or unpopular opinion! You see, even a more bigoted opinion is not against the law. I'm not justifying making unsubstantiated claims just to incite anger and provoke outrage, nor spreading nasty lies about any group. The key difference between where it ought to cross the line is inciting violence, and threatening individuals or groups with actual credible threats (i.e. bomb threats, shootings, assault etc…). Saying an unflattering, harsh and blunt opinion or criticism of someone or some group is not the same, and if censored, will go down a very slippery slope! When did a frank but honest critique become racist, sexist, xenophobic, homophobic etc…? When was it decided criticizing a politician's flaws and scandals is tantamount to hurling a racial slur? The fact is, there are many many opinions I strongly disagree with that I wish were never said in the open. However, I'd never dream of limiting their right to speak freely in this country, a democracy where the people can speak their minds about their government and anything else! I demand my rights to speak my mind, therefore, also fight for the rights of others to speak theirs, even in conflict with my own opinions. Quite a foreign concept, huh? 😉 After all, the true reason for needing a right to free speech is for just the occasion that speech is unpopular. The Nazis never came after those saying "Heil Hitler!", now did they? Many opinions will get your goat, even anger you. They certainly do for me on occasion, but I will still uphold their right to voice them in this country.
Speaking of speech that can skirt the line between unpopular and illegal, what about some things the liberals have said? Madonna wants to "blow up the White House"! and yet, no one ever came after her for making a blatant threat against the president and the government! What about all the people who have made death threats against Trump, our president, yet let off the hook with a slap on the wrist, or less! The incidents of "stab a Trumpkin" in a college, or a grave that said "Don Trump" at an elementary school Halloween party! Not to mention YouTube videos joking about assassinating Trump, or what about Antifa inciting violence with provocative statements against their opposition? The liberals get to say all the petty slurs they want, comparing the NRA to baby killers, or criticizing Trump's appearance, yet decrying any one else doing it to liberal politicians, like Hilary Clinton, or Michelle Obama. What about sacking conservatives for saying something unpopular and cancelling their TV show, or blackballing them, yet letting liberal actors and celebrities slander conservatives scott free? I won't say all conservatives air their views in the most polite, professional and articulate manner, but to say we're the hateful ones, while spewing out blatant lies, slander and hate for conservatives is complete and utter hypocrisy!
It's scary that here in America, major corporations such as Google and affiliated social media platforms like YouTube, Facebook, Twitter and others can censor conservatives and almost no one bats an eye or speaks up! The liberal bias is rampant online, as in every major news outlet, magazine, and media in general. They say all groups need to see themselves in the spotlight in a positive way to feel valued in our society, yet don't bat an eye at stereotyping conservatives as backwards, ignorant hicks and bigots! When do we get our turn in the media? When do our voices get to be heard on supposedly free speech sites like Facebook, YouTube and Twitter? The recent incident with PragerU and Facebook and YouTube censoring, where 3 million or so viewers couldn't access his most recent videos all overnight it seemed, really brought to light to many the extent the blatant censorship of conservatives goes! And this isn't the first time PragerU was censored either! Countless others, many much smaller and less prominent are censored every day by these liberal corporations online, and in the media, and who's going to speak up for them? PragerU was lucky since they are so prominent, but what about the little guy, such as my little platform to speak out? Who will protect me? The fact that this happens is an outrage, and if it were to happen to a prominent liberal organization, there would be international outrage on every major news network! Telling too how Facebook decided it was all an "accident", but who honestly believes the fact 3 million people couldn't reach PragerU's videos when PragerU got thousands of views on his others? You may not agree with everything PragerU has to say, you may oppose it strongly, but you know the saying…
First they came for the — and I didn't speak up,
Now they came for me and there was no one left to speak for me…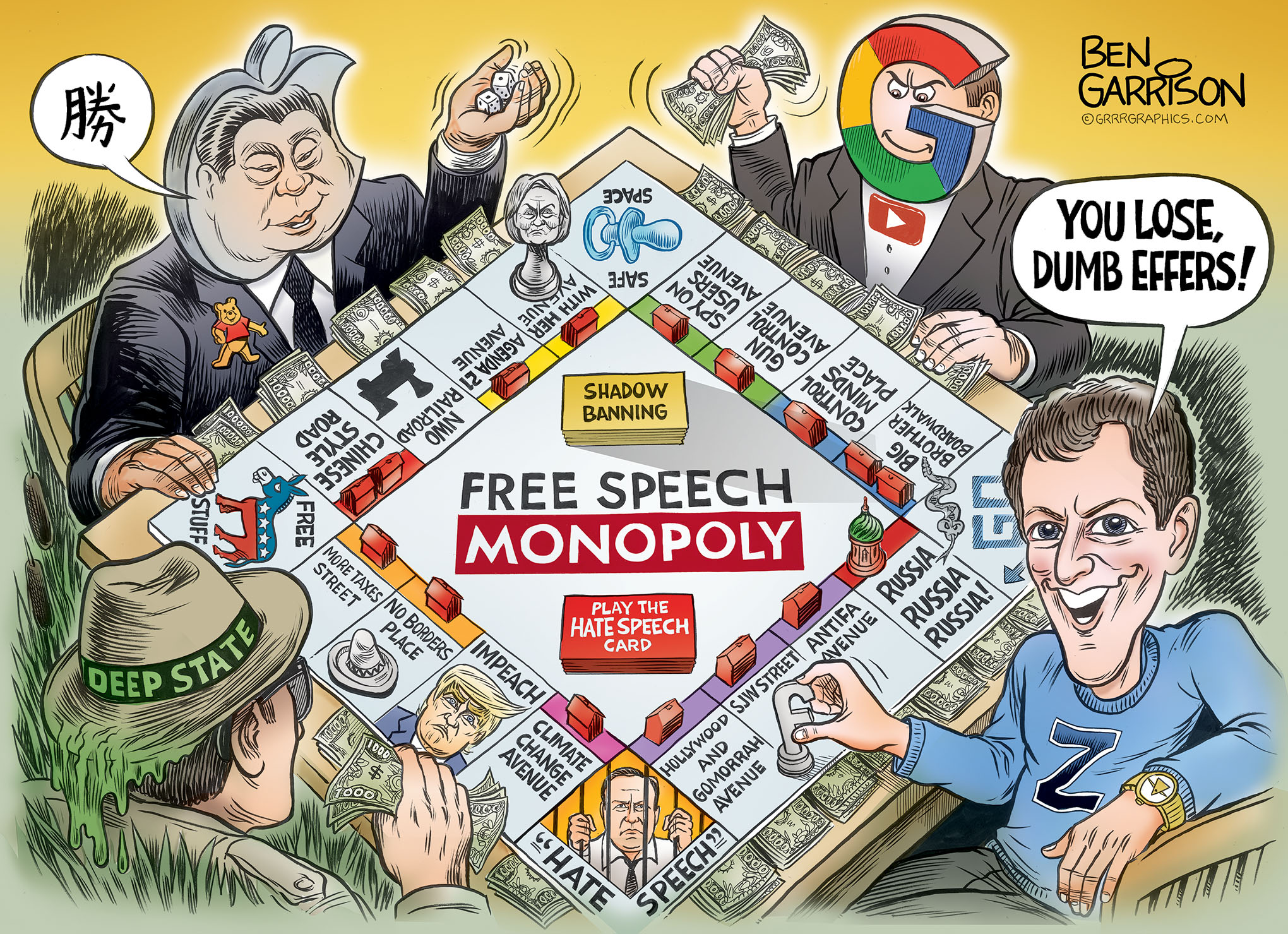 There will be more stories to come of censorship until we hold them accountable! It's only a matter of time until they come for you too unless we speak up together and fight to get our voices heard! Who will be there when they come for you if you let others be shut down?