Inspiration in Conservative Dress is a reoccurring series of posts of various modest and feminine outfits to inspire other women to dress modestly and resist society's pressure to dress provocatively and subscribe to "hook up" culture. Through conservative dress, A Lady of Reason sends a message of resistance to the "sexual revolution" and radical liberal feminism, and the upholding of feminine virtue. Arguably, this could also extend to the support for social conservatism in general. How we dress signals who we are in society. I also want to state that this idea is not mine originally, but done on another religious blog called The Catholic Lady. I was inspired by hers to make a secular version for A Lady of Reason. 
It's a heated topic on both sides, liberal and conservative: the sexualization of young girls. Both agree that over sexualizing young girls is detrimental to their self image and confidence, and also promotes destructive behavior such as acting out sexually too soon and running into harm. As a woman who advocates for the virtue of modesty in dress and behavior for women and girls, and condemns hook up culture, I also agree that teaching young girls to view themselves in solely sexual terms is unhealthy and detrimental. However, I believe the movement to prevent such occurrences has reached the stage of hysteria and moral panic, ironically doing what they claim to stop: sexualizing young girls and women. A prime example of what I mean is a raging debate around heels for girls and young teens. Some feel that heels are inherently sexual and over sexualizes them, while others see it as part of a harmless way to just express femininity and be girly. My personal stance is that it all depends on the shoe in question, and the context its worn.
A cute pair of little girls' kitten heels are in no way sexual! Whoever thinks they are I believe, is sexualizing that child and being hypocritical in their aim not to. Who hasn't dressed up in cute little heels as a child? Small, wide heels on little girls are adorable!
Some arguments range from the fact that heels on adults are often viewed in a more sexualized way and women can wear them to "send off signals", to a feminist message that it makes little girls care more about their looks than abilities, or they can't play as ruggedly in them like boys. They claim little girls ought to be more rough and tumble than ladylike. Other concerns are about health in that wearing them constantly is not healthy for properly developing feet, and indeed, adults can have issues if they wear heels too often.
To address the first concern, I argue that unless it's some sort of 6 inch stiletto with a pump, it's not sexual and does not look like you're a prostitute or any other questionable woman. Tiny wedges on little girls cannot be compared to that image and shouldn't be! Even wedges and smaller regular heels for tweens and teens are perfectly tasteful for special occasions or school if it's not too fancy or impractical. Sexualizing what was once innocent, like little girls in cute feminine shoes, or a cute wedge for summer only contributes to the toxic over sexualization of our culture in general. In our toxic hook up culture, nothing is ever "innocent" anymore! A hug from a male relative is dangerous, a
boy-girl friendship is sexualized, a note from a teacher is a come-on etc… Sexualizing moderately heeled shoes is just another thing in the list of innocent things turned sinister. While some, and I emphasize only some women might wear heels to send off indecent signals or be in questionable professions, the vast majority including myself and many other modest and upright women do wear heels tastefully to work, parties and other events in society. The key is moderation and knowing what is appropriate for when. I myself as a grown woman do not appreciate the  implication that adult women wearing heels is a sexual act in arguing that little girls shouldn't wear them because of that. I'm sure other women do not appreciate being sexualized in that manner any more than you would want your daughter to be by others! Wearing heels as women can be simply an innocent expression of our femininity as women.
The other major concern concerns the feminist agenda. What is wrong with teaching our daughters more lady like habits and activities? While little girls should be allowed to play more roughly at younger ages, I feel as a girl grows older, they should be taught more lady like elegance and grace in their activities. While at 5, they can tumble in the mud with their brothers, at 15 I'd hope they would be more lady like! Heels are a way to teach little girls to enjoy more feminine things. While I do feel that heels should not be worn on very young girls all the time, for special dress up occasions they are a good way to teach them how to carry themselves like little ladies. As long as they can wear them safely and not trip and fall every step, it's fine. The feminist argument that little girls shouldn't be taught to conduct themselves more daintily on certain occasions, like parties and special events or learn to act more feminine in heels such as not running wild is mostly an attempt to masculinize them. Little girls have plenty of time where they can play outside and roughhouse alongside the boys in sneakers and overalls, even historically, but on special occasions, they were taught to act like ladies in dresses and cute shoes. Why can't we strike that balance today? Freaking out over girls doing feminine things, like wearing light make up and cute heels crying "sexualization!" may also have the undertones of the radical feminist's fears of traditional femininity and what womanhood used to be. For ages, little girls pretending to dress up like mommy, and envision herself as a grown up lady by trying on her mother's shoes, clothing, and yes, makeup, was considered cute and an important part of any girl's development towards embracing womanhood. Making it into something damaging and perverted only speaks to our sad state of affairs of how our culture handles sexuality. In this world of sexual hysteria and #metoo, where Girl Scouts are told not to hug their male relatives, women are infantilized into helpless victims, messages of vulgarity and promiscuity are labeled as empowerment, no wonder the innocence of a girl wishing to be a woman someday is also now perverted!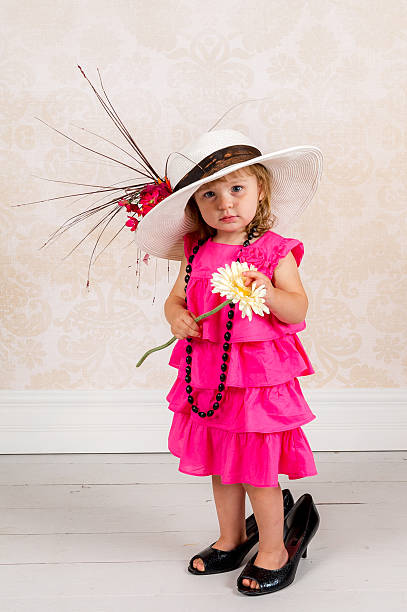 Hypersexualizing cute little kitten heels, or wedges, or mommy-daughter make up or nail sessions only serves to sexualize the little girls you claim to want to de-sexualize. Whatever happened to the innocence of a child wishing to be grownup? Most children are not thinking in sexual terms when they wear mommy's dress, or try on mommy's make up, or wear mommy's shoes. They just want to be like mommy! If what they're doing is inappropriate, maybe mommy needs rethink how appropriate those things are for her to wear and what kind of a role model she's being for her daughter to imitate! Wanting to be grownup has been a part of everyone's childhood since childhood was a thing. Why don't we stop sexualizing childhood by sexualizing adulthood? Monkey see, monkey do…